Liberals
Re-Elected:
the
good,
the
bad,
and
the
future
October 2019
In Monday's federal election, Canadians decided that the Liberals would continue to stay in power for the next four years. This time however, Prime Minister Trudeau's Liberals have a minority government.
Back in December 2015, we wrote a newsletter on what it would take for the Liberal government to change the many policies which were created by the previous Conservative party. We compared the Conservatives' immigration policies to a tight knit blue scarf, which was created in over ten years of being in power. So, what has the Liberal party done so far in terms of unraveling that scarf and making a red scarf of its own? Below we've provided a list of some notable changes, as well as a few wish list items of our own.
Overall tone – In our practise, we have found that this administration is more respectful of immigrants and refugees. It has also attempted to have better client service. The Minister of Immigration, Refugees and Citizenship, Honourable Ahmed D. Hussen, made the time to attend the last two Canadian Bar Association Immigration Conferences. He listened to feedback directly from the audience of concerned lawyers. During his latest visit, he also announced two new initiatives by IRCC: the eligibility of vulnerable workers to apply for open work permits, and a pilot program which allows previously non-declared family members to be sponsored at a later date (albeit, in limited circumstances).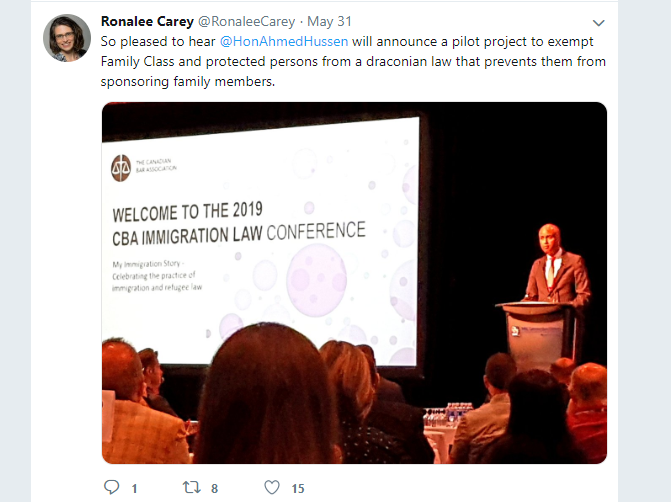 Picture of Hon. Hussen speaking to the audience at the 2019 CBA Conference posted on Twitter.
Meeting a number of previous platform commitments regarding family sponsorships – In their 2015 Liberal Party Platform, Liberals made many promises as immigration was a front and centre issue. They promised to double the budget for family class immigration processing, in order to restore processing times to levels achieved before the Harper decade. They successfully did this, and spousal sponsorships are now generally processed within 12 months or less (although we have been seeing this creep up lately for in-Canada applications). While 12 months still seems like a long wait, compared to the previous 27 months, it is a welcome change. For more on this topic, see our previous newsletter.
When granting permanent resident status to sponsored spouses, the Liberals also promised to abolish the conditional status requirement, which required spouses to stay with their sponsors for two-years before their PR could be finalized. This created dangerous situations where spouses stayed with abusive partners out of fear of being deported. The Liberals successfully abolished this requirement, and created a fee exempt temporary permit category for family members who are victims of violence.
The Liberals also promised and implemented rules to increase the age of dependence from under 19 to under 22, allowing families to sponsor their children who were older yet still dependent.
Decreasing wait times in other programs – In a recent interview on IRCC's attempts at clearing the backlog of irregular refugee arrival cases at the Immigration Refugee Board, we gave kudos for IRCC's work in this area. We emphasized that the changes they're trying to make are substantial. There are always ways they could improve, but they're putting their money where their mouth is. Processing times for initial first permanent resident cards being issued are also seemingly decreasing, which is a welcome change from having to wait many months for them to arrive.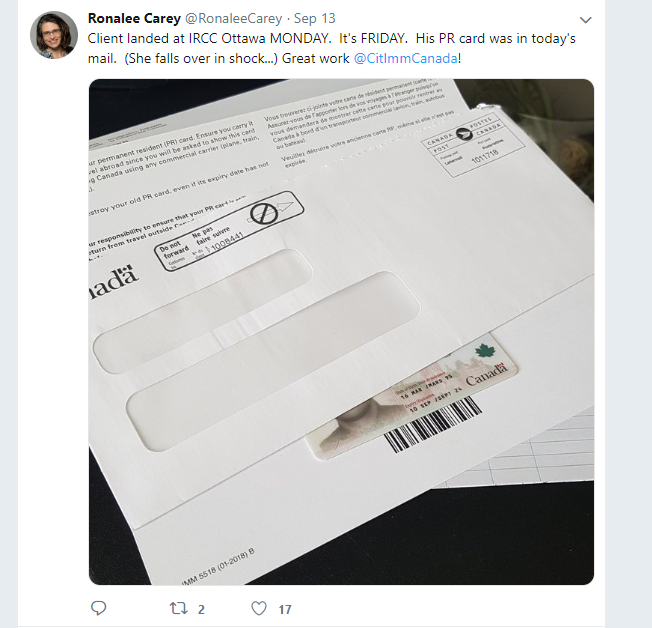 Twitter post of an especially surprising case
Increased focus on issues faced by international students – International students were having difficulty getting high enough scores to be selected for permanent residence under the Express Entry application system. This is unfortunate, as they spend large sums to study here, and have integrated well into Canadian society, making them excellent candidates for permanent residence. IRCC responded to this by providing additional points for Canadian education. We have seen this help our clients substantially. IRCC also announced changes which provided more flexibility when applying for post-graduate work permits.
Despite these changes, international students continue to face complicated and often unforgiving rules about studies and work, which put their ability to apply for permanent residence in jeopardy.
Other notable changes – The Liberals decreased the residency requirement for citizenship applications, making it easier to apply for citizenship. They also made major changes to the medical inadmissibility rules. Importantly, they also stepped in to provide funding to Ontario for refugee Legal Aid cases, after the province harshly made cuts which left vulnerable applicants in jeopardy. For more on this topic, listen to our discussion on CBC's 'All in Day' Interview.
Moving Forward
While the above changes are great, there is certainly room for improvement. Naturally, we have a wish list.
Improve the parent-grandparent sponsorship program- This program is a complete mess. There is a huge demand for parent-grandparent sponsorships, and clearly, managing applications is not going well. Previous attempts have also failed. Couriering in applications resulted in local couriers camping out overnight, the lottery format was criticized, and this year's online system had technical issues that created unfair situations which were litigated. We offered our thoughts to CBC which you can listen to here.
Stop using refugees as political pawns – In 2015, PM Trudeau's commitment to bring in 25,000 Syrian refugees was hailed as impressive in the eyes of the international community. Since then, the government has quietly backed away from its generosity, leaving hopeful asylum seekers confused about what changed. We often find ourselves telling overseas refugee sponsorship clients that it is political will that's changed. For more on this see this newsletter.
Further, the Liberals' so-called commitment to refugees was seriously called into question when changes to refugee eligibility was buried in an April 2019 omnibus bill. We were left wondering – was this 'hard on illegal immigration' move in anticipation of an election? Making refugees political pawns and creating a duplicate system that has now promised an 'interview' for PRRA applicants didn't even make any sense, from an administrative point of view.
Increase the budget to address issues with technology– As practitioners, we notice the everyday problems which come up when making applications to IRRC. A major irritant has been trying to use IRCC's online application systems. We have repeatedly submitted documents, to only be told that they have been lost in cyberspace. Further, when submitting a webform, there is no ability to get a copy. Nor is there any acknowledgment that it's been received. When providing important documents, this is nerve racking as we have no way of knowing whether IRCC has received them.
As representatives sending these webforms on behalf of clients, we are also constantly being told that we are not on file, despite submitting Use of Representative forms with the initial application. This issue was brought up to the Minister at our latest conference, and we hope it will be addressed soon.
Give notice about changes with clear timelines – IRCC is constantly releasing new versions of forms, with no notice or indication of how long the old forms will be accepted for. This causes stress and potential delay, as full application packages can be returned months later if the wrong form is submitted.
IRCC has also made a habit of waiting until the last minute to announce important programs, such as the open work permit pilot for in-Canada spouses.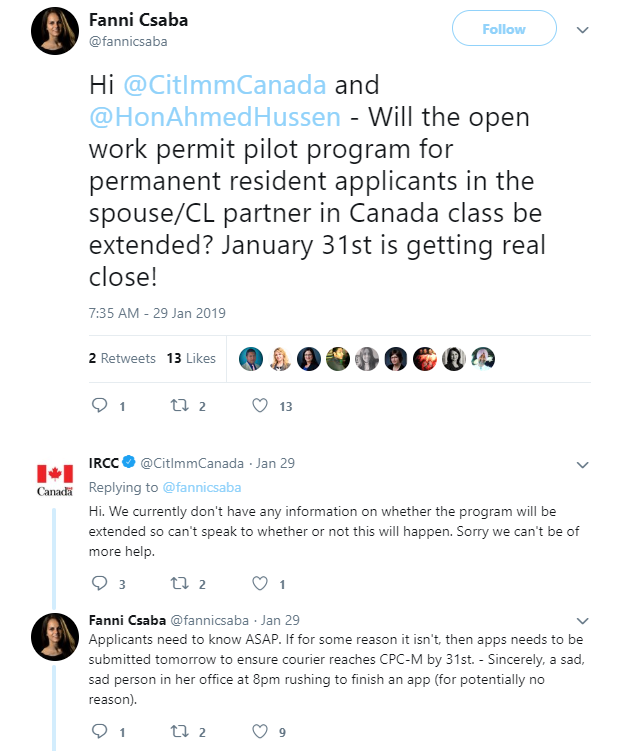 Twitter exchange with IRCC regarding the open work permit program.
Clearly, the Liberals have been busy. In four years, they've been able to make so many changes that we can't begin to capture all of them in this newsletter. As they work together with other parties and make changes moving forward, we look forward to seeing what the red scarf will look like during the next election.