Shocker:
Your
Canadian
Immigration
Application
is
More
Likely
to
be
Accepted
if
Prepared
with
the
Assistance
of
a
Lawyer
March 2019
On its Twitter account, Immigration, Refugees, and Citizenship Canada recently advised potential applicants that they don't need to use representatives to apply to immigration programs. Apparently, all the information needed to apply for any program is available on their website. If following directions on a website is all it takes to succeed, then why does our office see so many clients after their self-prepared applications were refused? Also, if the requirements are clear, then why do so many applications get sent back for being incomplete?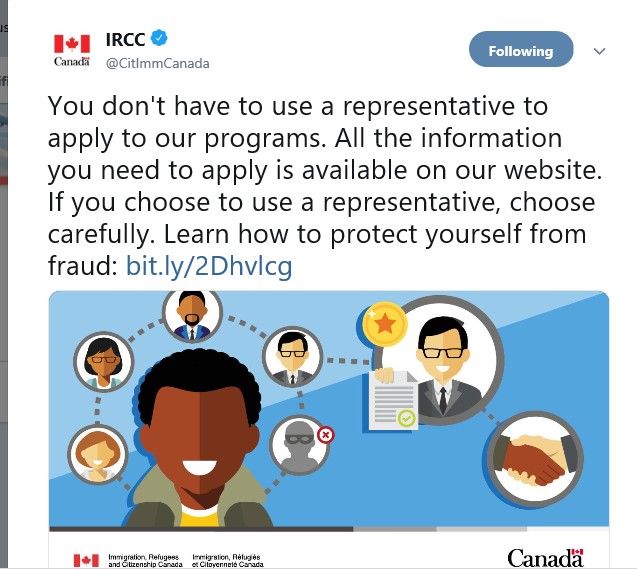 Statistics show that in 2017, Canada obtained 342,145 applications for temporary residence. Out of this number, 18.9% applications were refused. When the application was prepared by self-represented individuals, the refusal rate was 19.3%. When assisted by a paid consultant, the refusal rate was 18%. However, when the application was prepared by a lawyer, the refusal rate dropped to 10.4%.
Without getting into the important debate about the effectiveness of hiring a lawyer over a consultant, the above statistics tell a truth: hiring a lawyer will provide you with a better chance of your application succeeding. This gap in success rate is especially significant as lawyers tend to take on more difficult cases that carry higher risks of refusal.
Canadian immigration lawyer Aryana Rousseau recently tweeted the following:
Aryana Rousseau (@aryana_rousseau) tweeted at 1:30 PM on Tue, Mar 05, 2019:


If you cut your own hair, file your own taxes and fix your own car, you are probably brave enough to do your own immigration application without professional help. If not, consult an immigration lawyer. #cdnimm #cba #aqaadi

(https://twitter.com/aryana_rousseau/status/1102999792576352257?s=09)
So what do we lawyers do to that make the above statistic possible?
First, we devote a significant amount of time keeping up with new developments in immigration law. We understand that the website is just one source for getting information. Immigration law is based in statute and programs that are constantly changing. In many cases, the website isn't updated immediately to reflect new changes. Even more frustrating is when the website conflicts with what the law says. IRCC is constantly releasing new versions of forms without notice to applicants. Programs are opened, extended or closed with little or no warning. Our careers are based on keeping up with these changes, yet we still may not catch all of them. Expecting an applicant who holds a full-time job in another career to keep up with these changes is expecting too much.
When clients ask us questions about their issues, our answer is often 'it depends'. This is because this immigration law has lots of grey areas. Officers have a wide range of discretion in making decisions. The difference between a positive and negative decision could be whether they are feeling sympathetic to the client on that particular day. Our job is to understand this and prepare applications in a way that gives our clients the best chance of success. We also ensure that if the application is refused, there are sufficient documents to ground an appeal.
We devote our days (and often our evenings and weekends) figuring out what new developments mean for our clients. To maintain our licenses as lawyers, we are required to undertake a certain number of hours pursuing Continuing Professional Development. The lawyers in our office usually end up with almost triple the minimum amount needed, because it would be careless to not learn about new developments as they roll in. Most immigration lawyers in Canada also belong to a listserv, where experiences are shared. This bank of information is invaluable in providing effective services, as the answers to questions are often not found on the website.
Gone are the days when if an application is refused or returned as incomplete, the applicant has the option of contacting an actual human being to sort out the problem. IRCC receives too many applications, and simply does not have the capacity to do this. Applications can be refused for many reasons, including if the applicant was ineligible to apply in the first place, didn't provide the right documents, or provided misleading information. In the latter case, failing to declare information (whether on purpose or not) could lead to a finding of misrepresentation. This carries the possibility of being banned from Canada for 5 years. In cases where the application is returned for being incomplete, the applicant may not know for months, and the application fee isn't refunded. Both time and money are wasted. In our office, three sets of eyes review applications before they are sent out, to try to prevent this from happening.


When there is a previous refusal, trying to succeed in a new application could feel like climbing Mount Everest. Officers are hesitant to overturn their colleague's findings, and a previous refusal casts a shadow over that person's attempts to apply again. By hiring a lawyer to assist with preparing an application, you are increasing the chance of success on the first try. If we think you won't be successful, we'll tell you because our job is to advise you of the risks involved.
In our opinion, the riskiest thing you can do is trust that IRCC's website will give you enough information to succeed. Ask any self-represented person who's had a refused or returned application, and they'll be the first to agree.